April 28th, 2022 by
rrteam
With so many insurance options, it can be overwhelming to figure out exactly what you do (and don't) need. Thankfully, it is my job to keep tabs on the latest products and what purposes each can serve so that I can tailor an insurance package that uniquely fits your individual family's needs.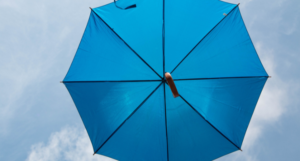 Today, we're talking about personal umbrella insurance policies. You can find out more on this topic by reading my wife's blog, too!
Not Just For Business
Even individuals can have umbrella insurance policies. It is not strictly a small business coverage plan. Instead, the basic resident can purchase this (typically low cost) product to protect savings and assets.
For a Rainy Day
In its simplest of terms, umbrella insurance is designed to cover you in the event of a lawsuit. Should your primary insurance not cover all costs of a lost suit, your umbrella policy would kick in to protect you.
Ultimately, this policy, much like an umbrella itself, is designed for a rainy day or emergency situations. You don't want to be caught in a downpour without an umbrella – and similarly, you wouldn't want to have to dip into savings or assets should you be required to pay out a large sum of money as the result of a lawsuit.
Think of your primary policies as a rain jacket. It is going to cover you most times. It may even cover you sufficiently enough from basic storms. But come a real downpour, you may want the added protection of an umbrella. This would be the purpose of an umbrella insurance policy.
What Umbrella Policies Cover
Umbrella insurance policies are designed to go above and beyond your primary coverage. For example, during a party, a houseguest trips and falls down the stairs in your home. It is likely your homeowner's policy will cover basic needs. But, let's say that the coverage of the policy is only $300,000. 
Due to injuries, missed work, and a personal civil suit for damages, the final total of the incident comes to $500,000. That additional $200,000 would have to come out of your savings. But, if you had an umbrella plan, it could cover that $200,000 for you (up to the max amount of your umbrella policy).
Umbrella policies can be additional coverage for homeowners, auto, and water (boat) insurance policies. While each policy may have unique exclusions or coverage amounts, the total limit is able to cover the policyholder in the event of bills totaling over the primary coverage amount.
The policy will often cover (should suit amounts exceed your primary policy coverage limits):
Cost of treatment of injuries to another party

Lost wages 

Legal fees

Auto or boat repairs

Property damage

Defamation 

False imprisonment

Landlord liability
What Umbrella Policies Do NOT Cover
An umbrella policy is designed to protect you from costs exceeding your primary insurance policies in the event of injuries or damages to the property of OTHERS. This policy does not cover, however, your own property or injuries to yourself.
Policies will also NOT cover:
Purposeful injury or damages

Illegal activities or fraud

Liability of a business

Damages due to nuclear incident, war, or terrorism

Communicable diseases (spreading to another person)
Seeking Professional Advice
With so many ins and outs to the world of insurance, the best advice is to seek the help of a trusted professional. I have years of experience with many types of policies, and am happy to sit down with you to find the coverage that makes sense for your specific needs. 
An umbrella policy may not make sense for everyone, but it certainly can keep you covered in major lawsuits, too. Knowing just how much and where to find these insurances is something we can discuss one-on-one, finding products to fit your unique situations.
Feel free to schedule an appointment with me today. To make an appointment, click here and use our simple online scheduler