July 13th, 2022 by
rrteam
Though our license plates boast "Land of 10,000 Lakes," and we're all well-acquainted with the fun outdoor activities built into the landscape all around us, did you know there are actually 11,842 lakes in Minnesota? That makes for a lot of waterways open to boating fun!
Before you take to the waves, make sure you are prepared with some boating safety measures that all boaters, from the novice to pro, should keep in mind. There is no such thing as too safe, and keeping you and your passengers free from harm is a duty of any boat owner.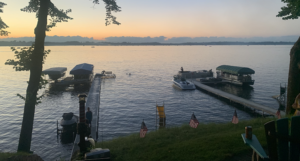 Boating Safety Tips
There are so many things to keep in mind when operating or riding in your boat. Some of our top recommended tips are as follows:
1. Wear Your Life Jacket
It might seem a hassle (especially for the kids), but these important safety devices aren't designed to be a nuisance. They save lives! Children especially need to wear a properly fitted and accurately worn lifejacket at all times while aboard a vessel.
Even swim-capable adults should wear a jacket. You never know when a passing vessel, your own motor, or other swimmers could endanger even the best of swimmers.
When selecting life jackets for each passenger, be aware of weight and size requirements. Labels inside each jacket denote the size person they are suitable for, which is yet another measure to keep us all safe.
2. Stay Sober
It is tempting to have an ice cold drink while aboard your floating vessel, but be sure to keep the beverages to the non-alcoholic variety if you're operating the boat. Even one drink can impair judgment, making everyone on your boat in danger. Just like you drive your car all summer long, please drive your boat alcohol-free!
3. Watch the Weather
Minnesota weather can change at the drop of a hat. Once blue skies can quickly change to gray. Dangerous storms can roll in anytime.
Keep an eye out for weather warnings and reports. If things look like they may turn for the worse, play it safe and head for shore. Your sun tan isn't the only thing in danger as clouds gather. Stay observant of local weather warnings at all times.
4. Stick to a Plan
Ideally, you should leave your float/route plan with a friend or family member who is to remain on shore. This way, your intended route is known by others in the event of an accident.
5. Take a Boating Safety Course
While regulations may soon require them for Minnesota boat owners, it is always a good idea for all members of the family to take a boating safety course. Our three children love fishing and paddle boarding, but we always are sure to play it safe.
Designated safety courses like this one can help keep important tips, advice, and regulations top of mind. It'll also help keep all members of your boating party safe at all times!
Enjoy Your Summer
No matter the way you enjoy it, take advantage of our Land of 10,000 Lakes! Even if there are over 11,000, there are still plenty of reasons to grab the family and recreate all summer long!
We hope you're enjoying a happy and safe summer!