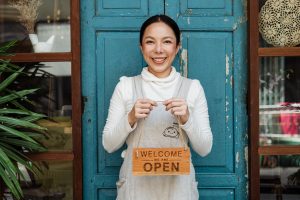 Every small business has its own unique needs, services, and products – so that's why your insurance should be personalized to you! 
How do you know what the right amount of small business insurance is? Which policies make sense for your operations? What coverages are ideal for your individual business? Let's find out. 
Types of Policies for Small Businesses 
While there is no "one-size-fits-all" solution for small businesses, there are six common types of insurance coverage that can be sensible for most business owners. 
1. General Liability Insurance for Small Businesses
One of the most common and much-needed coverage is called "General Liability." Nearly any business can be sued for any reason, and if your business is accused or found legally liable for injuries to someone else or for causing property damage to someone else property – this is the coverage that provides coverage and protects your business assets in settlement or lawsuit.
There is no way to predict the future, and savings can quickly dwindle in the event of a major lawsuit. Protect your business with a policy like this.
2. Property Insurance Insurance for Small Businesses
If your small business actually includes a brick-and-mortar location, even if it is on your own personal property (working from a home-based office), you may need to consider property insurance. These policies can cover you in the event of a major catastrophe, such as theft or fire.
3. Commercial Auto Insurance Insurance for Small Businesses
Does your business rely on a fleet of vehicles? Do you rely on one or two automobiles to get your job done? Chances are your business then needs a tailored commercial auto insurance policy. 
4. Workers' Compensation Insurance for Small Businesses
Unless you are the sole owner and employee of your business (and even then you may want to protect your own earnings), chances are you depend on the work of others to get the job done. If you have a staff, you want to be sure that they are covered, too, especially in the event of an injury while on the job.
Workers' Compensation Insurance can cover your employees in the event of any life's unexpected accidents at the workplace.
5. Business Owner's Policy (BOP) for Small Businesses
You've likely learned that, as with most things, buying insurance in bulk can save you money. That's largely what a BOP means: bundling a few policies into one, major coverage.
Business Owners Policies combine property, liability, and business interruption coverage for small to medium-sized businesses. This packaged coverage is generally less expensive than when purchasing coverage separately. 
Additionally, with a BOP you have the ability to customize the policy to meet your individual business needs.  
6. Cyber Insurance for Small Businesses
If your small business relies heavily on online services, cyber insurance may be a smart bet. This coverage will help in the event of a cyber attack, or a breach of your sensitive data.
Best Minnesota Insurance Agency
Whatever your small business needs, Rehm Insurance has your back. Our team can customize any policy to be sure your hard-earned assets are covered. 
Make an appointment today via our online scheduler, and let's double-check that your small business has all the coverage it needs!